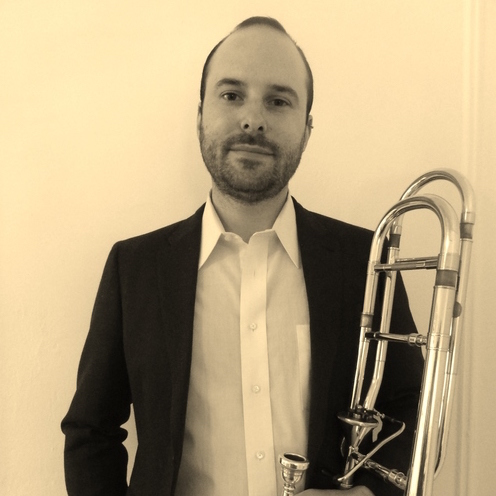 John Sebastian Vera is the Principal Trombone of the Connie and Gary Brandenberger Chair.
How did you pick your instrument?
Accidentally. When I chose my instrument in 5th grade they had us write down 3 choices. I wrote saxophone first because that's what the "cool" kids play (obviously), then trumpet, then I couldn't think of a third one so I wrote down the first instrument name that came to my head: trombone. Thankfully I couldn't make a sound on the saxophone and they had enough trumpet players already.
You have faculty teaching positions at Youngstown State University and Slippery Rock University. What is your favorite part of teaching?
Teaching has inspired me in ways I didn't know was possible. My mother was a school teacher for 38 years so I don't take the privilege lightly. Learning an instrument is learning life. Helping students grow mentally and spiritually in addition to getting better at their instrument is a profound and rewarding responsibility. Having two private studios to practice and work in outside my house is pretty rad too.
You spent a summer in Haiti teaching and performing as a volunteer. What was your most memorable part of the experience?
That summer was one of the most moving experiences of my life. I learned what the power of learning an art can do for a society. It gave this culture an identity and vehicle to express themselves, it taught them how to learn and gave them confidence. For the poorest country in the Western Hemisphere, I've never seen a more kind, loving, and community-oriented people. They don't feel sorry for themselves and they probably did much more for me than I did for them. …Oh and being on a boat that almost sunk in the ocean and being stranded on an island for a night with nothing was pretty memorable too ;)
What do you like most about being a member of River City Brass?
This is one of the most unique ensembles in the country if not the world, and it's in Pittsburgh. Rarely do musicians get an opportunity to play this music with this type of ensemble on such a frequent basis and high level. It's an amazingly unique and beautiful sound. I've learned so much and it's made me a better musician. The best part is being around this group of people who are always encouraging, quick to laugh, and don't take themselves too seriously while playing at an extremely high level.
Non-musical hobbies?
If I could travel year round I probably would. I also really enjoy reading about psychology and social science. I'm an admitted addict of all Dallas sports teams. (I'm from there, don't hate.) I'm really bad at cooking but great at picking restaurants if that counts!
Best spot in the 'Burgh?
Ahhh too hard. I'll cheat: Food: Gaucho, Smoke, Tessaro's and The Vandal. Cocktails: Tender, Butterjoint,and the Livermore. The Mattress Factory Museum is worth visiting many times a year as well as the National Aviary.
Early bird or night owl?
I love mornings. Clear mind, full of optimism.
First record ever bought?
I think this question is designed to be embarrassing. I believe it was the Offspring followed by that hot Hootie and the Blowfish album.
An interesting fact about you is…
I played a trashman in a movie once. I also have two uvulas. Don't be scared.
What advice would you give to an aspiring musician?
Follow the passion. Never be afraid of failure, that's how you learn. Focus on the "why" more than the "what". How are you going to help make the world a better place?
John Sebastian Vera also teaches at Youngstown State University and Slippery Rock, plays with the Pittsburgh Opera, and runs the the Third Coast Trombone Retreat, an eight-day trombone intensive for high school, college, and amateur trombonists from all around the United States.
Also, be sure to check out his Instagram: johnsebastianvera